Little Bit Foundation has impacted 34,500 students in St. Louis
The Caribbean Creme Frozen Beverage Manufacturers Team gave back to the community by volunteering with The Little Bit Foundation.  The Little Bit Foundation is an army of supporters giving, serving and advocating for impoverished children in St. Louis.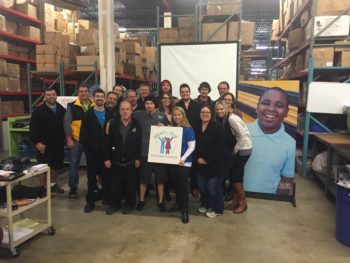 Through partnerships with area schools and serving as the backbone of distribution for programs that provide for students' essential needs, the organization is committed to having a positive impact on each student's personal growth and self-esteem.
The organization has impacted 34,500 students in St. Louis city and North County with this mission since our journey began in 2001.
The entire staff at Caribbean Creme participated in supporting the foundation, part of the team worked in the warehouse sorting and packing supplies and the rest of the team visited local schools distributing hats, gloves, coats and other supplies to keep the children warm.